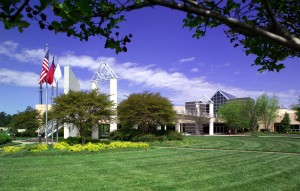 Photo of the Friday Center of Continuing Education
http://fridaycenter.unc.edu/thinkagain/images/Exterior%201.JPG
Chapel Hill, North Carolina
As of January 16th, 2015, I have begun my half year sabbatical. I want to thank Durham Academy for the unique and generous opportunity that has been provided for me to spend the spring semester of the 2014-2015 school year on sabbatical. I thought I would share some of my plans for the semester.  As stated in my sabbatical proposal, I plan to use the time learning about the field of Digital Humanities.  As I began to research the best strategy to accomplish this goal, I came across the name Tim Marr on the UNC-CDHI website. I have had the good fortune to know and to work with Durham Academy's own History teacher, Paula Marr for many years.  Paula's husband, Dr. Tim Marr, is coincidentally a faculty member of UNC-Chapel Hill in the department of American Studies. He also serves as a member of the Faculty Steering Committee for the Carolina Digital Humanities Initiative and as a member of the Digital Innovation Lab Advisory Board. His current work involves employing digital tools to analyze the Civil War poetry of Herman Melville.  Tim was kind enough to meet with me and provide guidance on the best way to spend my semester exploring this exciting field.  Among a tremendously rich list of resources, he mentioned an English course that is offered this spring semester at UNC.  After reading the description, I realized that this would be a perfect launching point for my studies. I have enrolled in English 530 through UNC Chapel Hill's Friday Center for Continuing Education.  A detailed description of the course follows. I eagerly anticipate a semester filled with reading, thinking, writing and learning. I am nervous about exams, papers and deadlines, but welcome the time to rejuvenate the innate academic curiosity that led me to the teaching profession in the first place. Thank you again for this amazing opportunity. I'll keep you posted on my progress.
ENGL 530: Digital Humanities History and Methods
The following are a few course descriptions generated by my instructor Dr. Ashley Reed
"The digital humanities has received much attention in the last few years in both the popular press and the professional and scholarly journals in which academics communicate with one another. Much of this attention—positive and negative—has been based on scant knowledge of the actual work performed by digital humanists. This course will give you a thorough introduction to the topics, tools, and techniques that animate the field of digital humanities. If you are already working in the digital humanities, or hope to, this course should both broaden and deepen your understanding of the scholarly work that has been and continues to be done under the mantle of "DH."
ENGL 530: Digital Humanities History and Methods will offer an introduction to the wide range of research and teaching applications that come under the rubric of "digital humanities." Digital humanists use technology to answer traditional questions about literature, language, history, art, and music—and to ask new questions. They design online archives for studying the works of William Blake, Emily Dickinson, and Vincent Van Gogh; use text mining algorithms to discover linguistic patterns in thousands of nineteenth-century novels; create galleries to showcase student writing and research; map social networks of the ancient world; and in the process redefine what it means to create and disseminate knowledge. "
"ENGL 530: Digital Humanities History and Methods will provide interested students, scholars, teachers, and professionals with a thorough grounding in the fundamentals of digital humanities work and prepare them to pursue their own teaching and research projects. The course is designed for graduate students, post-secondary instructors, K-12 educators, cultural heritage professionals, and independent scholars who wish to know more about the topics, tools, and techniques that are bringing the humanities into the digital age."
ENGL 530 meets online January 7 – May 5, 2015, and is open to UNC students as well as scholars and students not currently affiliated with UNC.